Author: iPhone Reviews // Category:
This is my first review from
Razorianfly
! As with my review I brought over from TheAppEra, I generally won't have the reviews doubled up :) Enjoy
Fast & Furious [
App Store
] is the latest game to hit the App Store from iPlay. It was released to coincide with Fast & Furious opening in cinemas on the same day. I found Fast & Furious to be everything their first racing game, Fast & Furious: Pink Slip, is kicked up to a whole new level. The amount of content with more cars, races and tracks is a welcome improvement.
For those who have no idea, Fast & Furious is a racing game that follows the storyline of the movie with the same name. Unlike most other games of its genre, there is an actual storyline that goes throughout the game. The fast paced levels look superb, but sometimes have the odd glitch or movement in the scenery. The sound effects for the cars are more realistic than most other car games I have played.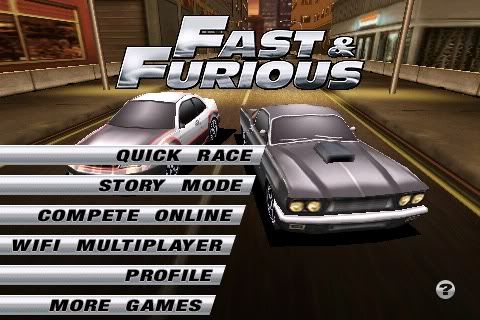 Gameplay
Story mode leads you on the path of the main character through four areas, the Streets of L.A, Mexico, the Dominican Republic and the underground tunnels below the Mexico/USA border. These areas are then split up to 9 stages with a major mission in each stage as well as 1 or 2 other races to complete. Like in Fast and Furious: Pink Slip, the normal races require you to put your money where your mouth is and put one of your cars on the line. The major missions on each stage are movie related and follows the storyline from the actual movie. Before each of these main missions there are some screen shots and dialogue from the movie.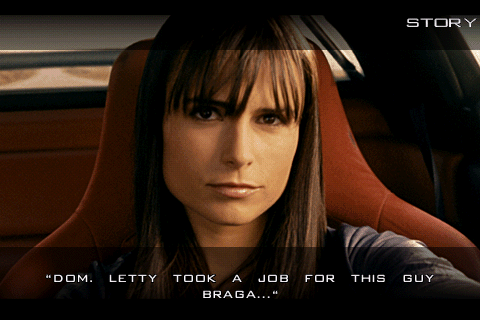 One major improvement from the Pink Slip game is the number of different game modes available to play. They include the point-to-point race, drift race, drag race, evasion race, pursuit race, GPS race and tunnel race. Point-to-point is very straightforward with the objective to get to the end of the race before the other guys. Drift race requires you to score points by drifting around corners and on straights if you wish. To win you must beat your opponents and reach a target drift score. Drag race requires you to change gears at the right time to beat your opponents. After the first few seconds all you do then is decide when to use your NOS, you can't even steer. I find drag races the worst of the lot. Evasion races involve you escaping from either police or in the case of one mission, from one of the characters in the movie.
The three new game modes are the Pursuit race, GPS race and Tunnel race. Pursuit race involves catching certain cars and hitting them enough times that they break down. GPS race involves racing around a circuit that has different corners and forces you to make a decision while looking at the mini map. Finally tunnel race is only for the scenes under the Mexican/US border. This involves getting past a series of dead-ends by pressing lights when they turn green, more of a logical challenge than an actual race.
There are 36 cars to win, all with its unique properties and design. While some of these have a similar build, they all have different strengths and weaknesses when it comes to racing. These can't be modified, which was a bit of a letdown to some people, but with the amount of cars to win I am happy with them as it is. Most of the cars are won by Pink Slips, but the cars on the major missions are won just by completing the mission with that car. Story mode also has a set of achievements to unlock to challenge those who are willing a bit more. After finishing the game on normal I had unlocked all but two, but I have had alot of practice on F&F: PS.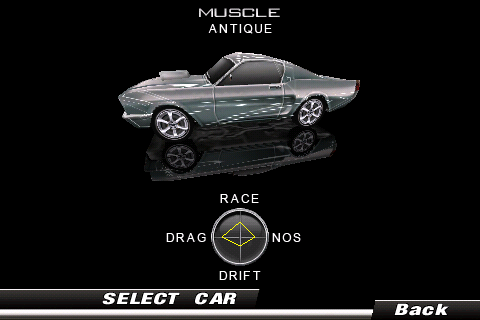 Quick Race has been improved a heap since F&F: PS. Originally when you chose quick race you got a random race type on a random track, which got annoying if you wanted to practice a certain race. Now that has been fixed and you can choose when type of race you do but not where you race it. Also you can choose what car you race with. I would like to see a little bit more control over these but its a heap better.
WiFi Multiplayer let's you race against friends over the same local WiFi connection and is alot of fun. Online play uses brand new technology on the iPhone games and I will talk about it a little later on.
Presentation
Graphically this is one of better racing games on the App Store. I was a big fan of the F&F: PS graphics and I believe these are better than those. As stated before the sound effects in the game sound very realistic and fit the game well. The actual racing runs very smoothly for a majority of the time with no lag what so ever found while racing. The only small hiccup is that at times the scenery may tend to jump or merge into other parts of the scenery, but it always sorts itself out. I have yet to have Fast & Furious crash on me, and there was no need for a reboot for the game to work, which was a problem I found sometimes with F&F: PS. I am very impressed with the quality of the game.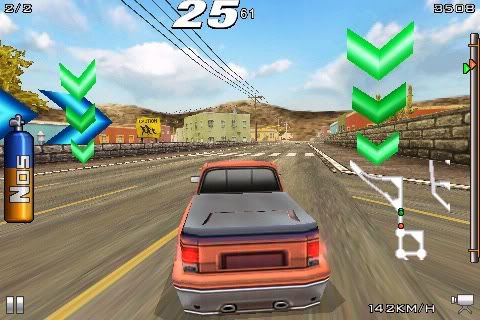 Controls
The controls haven't changed for Fast & Furious. While some gamers may be disappointed, there is no way to have the acceleration button on the game as it is auto-acceleration only. To brake in the game you can touch the screen anywhere except on the NOS button, which is alot easier than finding your way to a small pedal in one corner of the screen. To turn your car you tilt the iDevice left or right depending on what way you go, and this is always very responsive. Finally to use your NOS you press the NOS cannister on the left of the screen once it is full and flashing. The controls are very simple but work.
Cloudcell
Cloudcell is the new technology used for Fast & Furious that lets you play online against anyone in the world. After a simple registration you can start to race to record races and post times on the leaderboard. This doesn't sound very exciting, except that you also have the option to upload your races onto YouTube and soon to Myspace. What you do is register with Cloudcell and then go on their website and link it with your YouTube account. Once it is set up you can start processing your videos that the program somehow remembered, even though already recorded times didn't use the YouTube set-up.
While the YouTube videos aren't perfect with some sound problems and serious smoothness issues, that aren't in the game, it works quite well to get hints and tips off the pros. As you can see below from my CloudCell video it looks quite dodgy, but the game is far from it. Top ten times automatically get a video added to them. This is great technology that I have enjoyed using. Look for me on the leaderboards, I'm 'Sainter', and at time of writing this I am the 3rd overall driver. Along with Facebook connect that is being used in Scrabble, these are great ways to get people more involved in their games.
Final Impression
I loved Fast & Furious as you can tell. The storyline and cloudcell really sells this game to me. After playing this game there is no way I will go back to any of the other previously released racing games. While it isn't the smoothest ride on the App Store, it has the most content and variation. A superb game developed by Firemint, lets hope they can keep it going when Real Racing is released soon.
Current Status:
Highly Recommended
Reviewed at:
v0.2.5
Reviewed on Firmware:
2.2.1
Download size:
15.8MB
Released on:
2nd Apr 2009
Retails for:
£3.49 / $5.99
Compatible with:
iPod touch Gen 1 & 2 / iPhone Classic / iPhone 3G