Author: iPhone Reviews // Category: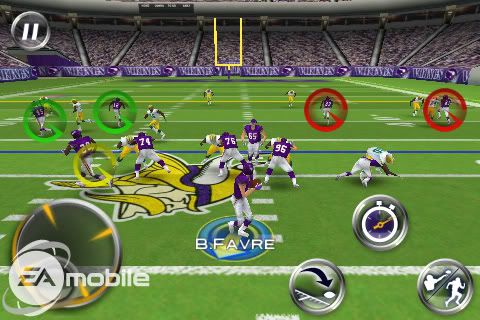 iTunes Link
Madden NFL 10 is a football game by Electronic Arts. $9.99
If you read the NFL 2010 below you would know how much I think Madden 10 is the better football game. Everything in Madden has been kicked up a notch from what we got from Gameloft in NFL 2010. What else would you expect though for a game that not only got higher than NFL 2010 on the App Store charts but at full price was also $2 dearer. The other thing Madden has going for it is its name. The reason Electronic Arts has been super successful on the App Store is because people will buy their games first just because of the brand name. Obviously Madden 10 is the most successful NFL console game of all time and any other device should have the same success because of the name. This is why I am predicting FIFA 10 to automatically go better than Real Soccer 2010 because of that brand name.
My initial impression of Madden 10 was wow. This game looks and plays like something really professional. Just how smooth and polished this game is quite literally blew me away. The graphics are incredible and direct comparison to NFL 2010 are head and shoulders above the competition. Having say that, the just released Backbreaker Football has way better graphics, but what is happening in the actual games are totally different and therefore I'd have to call what we have in Madden more impressive. The game is more realistic and has many many more options in regards to plays etc. compared to NFL 2010. This game is just jam packed with features and they have been delivered excellently.
Madden 10 has surprised me with how good the graphics are. I first saw screenshots of NFL 2010 before anything to do with Madden were released and I saw them being very impressed and wondering how Madden will beat them. In true Electronic Arts fashion Madden 10 has done just that, with graphics that are crisper, more defined and players that look quite realistic. The game is also very smooth for a graphically powerful game. I found no lag what so ever while playing this game and was probably smoother than NFL 2010. I don't know how Electronic Arts do it but they can get almost all their games to run perfectly, while Gameloft have had a few problems with pre-iPhone 3GS devices for games like Gangstar etc.
The controls found in Madden 10 I found more accessible and easier to use than the controls in NFL 2010, once you got used to them. Madden 10 requires a bit of learning to perfect how to use the many special features. For one you control your own slow-mo time to execute the perfect juke or spin to get out of trouble. The passing, defense and running is all the same to NFL 2010 with the virtual joystick and tap to pass used. What is different however is the way to kick or punt the ball, using basically the Tiger Woods PGA Tour shot method of dragging the ball down and up. This takes a bit of practice as you have to time it with a kind of pulse in the bar to kick it 100%. The other changed I really liked was that you can alter the plays to how you want it to happen. What I mean by this is that you can choose the path a runner will take if you choose to edit it. This can come quite handy if you are getting a bit stuck and the player can't get free.
Madden 10 features many game modes, but as most sport games the season mode is the one you will play most often. This gives you a quite realistic roster of a NFL season as you try and compete for the chance to win the coveted Superbowl trophy. You choose any team of your choice, which doesn't seem to matter like in NFL 2010. In that game they had a rating for each teams attack and defense but not in Madden. After you choose your team, the difficulty of the games and time length you are set to hop into the season.
The game to me is super smooth and a joy just to play, but there are a few features which could be tweaked. The passing I believe has been improved from NFL 2010 with more chance of a breakaway with a successful catch, but I found that sometimes it was just that little bit too easy to do so. In NFL 2010 I could easily shut down the other teams plays by getting around and tackling the quarterback. I found this a lot harder but maybe too hard with it only maybe happening once a game, if that. It made the game a lot more challenging and probably a more strategic gameplan was in order. The one thing I don't like about both Madden 10 and NFL 2010 is how you can continually use one play to win the game by 30 points or so. I think the CPU should be heaps smarter to pick up on repeated plays so you have to continually think what your opponent will do and how to beat them. Apart from this hiccup however this is one amazing game.
Madden 10 is everything you would expect from Electronic Arts and more. $9.99 for a world renowned brand name, spectacular graphics and an excellent game all around. The price tag is very respectable for a game like this but with a very near effort from Gameloft at $2.99, I would have to say that only truly diehard football fans should probably buy this game. Most people will be happy with the Gameloft version but if you want a real quality game or just love your footy then definitely don't take the cheap option out.
Gameplay- 9.5/10

Graphics- 10/10

Sound- 10/10

Overall- 9.5/10
I would recommend this game if you enjoyed- NFL 2010


Tell me what you think about this review at Twitter- http://www.twitter.com/iPhone_Reviews next up is Dungeon Hunter

Thanks- iPhone_Reviews