Author: iPhone Reviews // Category: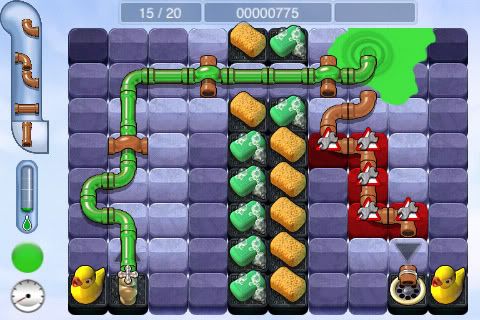 Pipe Mania is a strategy game by Virtual Programming. $4.99
[A modified post from TheAppEra]

Pipe Mania (previously Pipe Dreams) became a smash hit on platforms like the PC, PSP, DS and Wii. With the help of developer Robosoft this classic game has ventured onto the iPhone.
I have never heard of this title, but it has been out for over 20 yeasr, originally being introduced all the way back in 1987, the year before I was born! What has kept this title a favorite for all generations of gamers is how its evolved with the platforms, providing more gameplay and better graphics.
The great puzzle process used way back in the very early days is still present and dragging in new comers to the series as well as the old timers.
This is a great strategy game that reminded me of the Alchemistry puzzle in the online game Puzzle Pirates, but alot more engaging and challenging.
After my initial impressions of just one level I gave this the thumbs up. Right from the get go this game promised to challenge me ,and I found it difficult to even pass a level successfully, let alone get a gold star for it. The amount of content in the game is amazing and has justified the price for me, as it was looking like a simple $1.99 game before I actually started playing it. The game easily has quite a few hours of content just to complete all the levels, let alone all the challenges and gold rankings on top of that.
As you can see in the above screenshot, this game has come an incredibly long from its 1980's version. This is a game that looks and feels like it was handmade to be played on the iPhone. With groovy graphics that could challenge most puzzle games on the App Store, this game really has it all packed. From the many obstacles you face on the various levels, to the spillage when the flooze reaches the end of the pipe it is all created perfectly and with an amazing amount of detail.
A nice edition to the game is that for each level pack, there is a totally different game theme. Whether they're actually sewer pipes or train tracks it is a small but welcome addition to this game. Just from the screenshots on the App Store you can tell that this is a wonderful game to look at. It can even be tested out for yourself with a lite version of the game.
RoboSoft and Virtual Programming has done well to keep the controls of this game as simple as possible to make this game enjoyable. I was expecting to have to drag each piece from the side of the screen onto the wanted square, but instead all that is required is a simple tap to place the next piece in line.
This makes it alot easier and also less time consuming, which is a crucial part of the game, especially in later levels. Some special pieces such as the '?' piece requires you to tap where you want the piece to go and then another tap to choose what kind of piece it will be. Don't worry as you will figure out what this means when you buy the game. All in all it works very well and seems like it was a game designed perfectly for the iPhone.
Pipe Mania follows a very simple concept, but initializing it is the hard part. The basic way to complete each level is to get the flooze from a starting tap to an end drain somewhere else on the map. How do you do that exactly? Well you must direct the flooze around the city by placing pipe pieces on the map to successfully take the flooze from the start position to the ending position. This is not as easy as it sounds as the pieces do not fall out nicely, letting you create an easy route. You must plan ahead, placing pieces before they even join together, with at least two separate pipe lines running around the screen before you can manage to link them up and complete the level.
There are four game modes to compete in. The first is world mode, which gives you over 38 challenging levels with various themes to complete. These are set levels with obstacles and items set in a way to make them challenging. This is the main game mode and needs to be played quite a bit to unlock other modes. The next mode is arcade mode, which basically gives lets you try and complete as many levels as possible without losing. Bonus mode is different to the rest of the game by having a mostly pre-completed puzzle yet you have to place the correct pieces in their positions quickly to get a high score. Finally classic game lets you play the game, as it was originally designed to be. This involves trying to get the flooze to the end while earning as many

Pipe Mania brings in aspects of strategy, skill and speed to deliver a game that will be enjoyable for almost anyone. The quick paced game will have you screaming for the correct piece as the flooze reaches the end of your pipeline and starts to ooze out. This game hasn't made me think so hard compared to any other game on the App Store, focusing on you having a plan in your head before you even reach that spot on the map.
As you progress through the game and unlock more levels and game modes, it gradually becomes harder with more obstacles and new pieces to always test your skills. While this game isn't for those who enjoy an easy straightforward game, prepared to be taken to your limit with Pipe Mania. One of the best games on the App Store and the hours of fun is an absolute bargain at the weekend sale price of $0.99. Seriously guys, get it before it goes up. You won't regret it.
Gameplay- 9/10

Graphics- 7/10

Sound- 7.5/10

Overall- 7.5/10
I would recommend this game if you enjoyed- Zentomino

Tell me what you think about this review at Twitter- http://www.twitter.com/iPhone_Reviews next up is X2 Soccer 2009

Thanks- iPhone_Reviews