Author: iPhone Reviews // Category: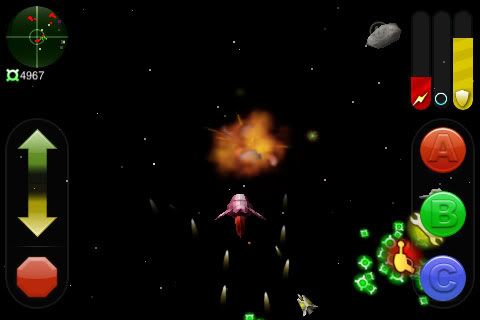 The VOID is a space shooter game by Alexander Wayne. $2.99
[This is a modified post by TheAppEra]

When I first saw this game I was thinking it was going to be a total disappointment. Looking at the game I thought it would turn out to be a bad Galaxy on Fire look-a-like. I ended up eating my words as this is a great top down shooter with an incredible amount of content.
This is safe to say one of the best hidden gems on the App Store. Before James came to me with this I haven't even heard a single tweet or mention of The Void, and upon looking at the screenshots I was thinking it was going to be a failure. I was thinking a a space shooter with about 10 levels and a survival mode, but instead is a fully fledged game with over 80 levels to explore. When playing this game it seems to me like a top down version of Galaxy on Fire with hundreds of items including weapons, equipment and spaceships available to buy and upgrade. The graphics in this game are pretty basic, but the number of different enemies are a welcome addition from the same ships over and over again. But for a game you probably haven't heard of before, is it worth it?
The Void doesn't have any whiz bang graphics to go with the gameplay which is one of the reasons why people don't buy this game. I am a victim of this as the game doesn't look that great. The game is a pretty basic space environment with the background as stars absolutely everywhere and all the objects floating around. These are pretty basic but what makes these graphics understandable is the amount of objects and enemies floating around in all the enemies.
Not only are there many enemies trying to hunt you down, but many objects pop up in quite a few of the levels. As you progress, you will find more of these hanging around in the levels. Some examples of items that you can find are asteroids, mines, packages and planets. These can be used to your advantage in different ways throughout the game. I will talk more about them later on.
Both the enemy and your own ships start out basic and small, with basic yet original designs. As you progress not only do the ship designs look better but they get bigger with a wider range of choices. Enemies ships also change frequently determining on how far you are into the game. There are hundreds of weapons available to use each with their unique attack and animation.
The controls have been designed perfectly for the space game. To control your space ship you have an up and down arrow to accelerate and reverse with a button to brake. To turn you have to tilt your iPhone in any direction depending on how sharp and quickly you want to turn. Mastering using the accelerator and brake to turn corners can take a while to do it quickly but these controls work well.
To attack there are three buttons, an A B and C button. You can assign certain weapons to certain mounts on your ship which can then be assigned to one, two or all three buttons. In the start it seems like a waste to have different weapons on different buttons but each attack uses energy, so having long distance weapons and short distance weapons on different buttons to save energy could be reasonable later on.
The ships have been designed to move around the levels just like they were in space. Alot of thought has gone into their movement and the ships move just like they were in an area with no gravity. Unlike other shooter games, when going in one direction and turning around you will continue to move forward, almost drifting around slowly instead of a quick turn. This seems more realistic and while taking more time to do, certainly enhances the playing experience.
The basic storyline in The VOID is that you are an insignificant space pirate that raids and plunders various uninhabited lands, before climbing the ranks and eradicating the four neighboring alien races. The VOID plays as a role playing game with over 80 stages to complete in the game with varying difficulties.
The game is split into five sectors basically with the aim of defeating all stages in each sector. The sectors are color co-ordinated and represent the four alien races and one unhabiated section. The enemies and items in each sector vary depending on the difficulty and color of the sector. Darker shades of the colors mean that the level is easier in difficulty than the brighter shades which are ultra difficult. There is a large bright dot for each of the four alien sectors which act as a type of 'boss' level.
The aim of each level is to destroy all of the 'red' items in the level. By red items I mean ones that have a red marker where they are positioned on the map which is on the left of the screen. These include enemies, packages and mines as well as others. These items as well as the yellow items, which are asteroids, drop off the currency in the game to buy ships etc. as well as new ships, weapons and equipment. The game is very challenging and the statement on the description sums up the fighting perfectly, "Winning battles will take skill and not just a big gun". Going up to an enemy and blasting away will often get you killed as your defence will disappear and you will die. The way to kill an enemy successfully is to attack it without getting hit. Often getting its attention then running away or circling it with well timed hits can often kill an enemy.
I personally think the controls dashboard needs a some work. It offsets the quality of the games graphics with super big buttons and what not. It can maybe get transparent a little or make them smaller.
The VOID gladly surprised me, and ending up being an exciting adventure to play. You will find many hours wrapped up in this very challenging game. The VOID plays like more of a role playing game than a space shooter with the original style of play. This has something for everyone, with the ability to try and collect all the ships or beat every sector in the solar system.
While this hasn't had the success of similar games like Galaxy on Fire, don't let that deter you from buying The VOID. For those not sure if they will like this game, as there is a bit of a learning curve to master, there is a lite version with a few levels from the beginning of the game. This is an addicting game, that will keep you hooked for hours on end, definitely one to check out.
Gameplay- 8.5/10

Graphics- 6.5/10

Sound- 7/10

Overall- 7.5/10
I would recommend this game if you enjoyed- Galaxy on Fire

Tell me what you think about this review at Twitter- http://www.twitter.com/iPhone_Reviews next up is Castle Conflict

Thanks- iPhone_Reviews
I would recommend this game if you enjoyed- SimCity

Tell me what you think about this review at Twitter- http://www.twitter.com/iPhone_Reviews next up is The VOID!