Author: iPhone Reviews // Category: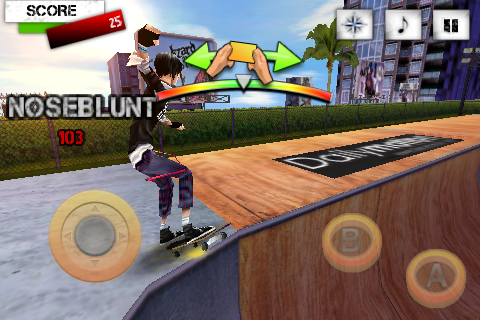 iTunes Link
Skater Nation is a skateboarding game by Gameloft. $6.99
[This is a modified post from
TheAppEra
]
Skater Nation gives us a huge world to play around in. When I say huge that's quite an understatement because it will literally take you forever to find all the areas to skate in. There is a heap to do in this game, it looks great, and I found the controls surprisingly easy with practice. Are you ready to skate down the streets?
This game looks damn nice! From the core basics of the city to the details right down to graffiti and ad boards. What makes this game impressive is how they have made a game with a huge environment that has unique scenery at every corner. I wouldn't be surprised if they used the Gangstar engine to get the layout for this city as they are both large in size for an iPhone game.
Those skating buffs will be able to tell the difference between the tricks as the game runs smoothly even on the 1st Gen devices. Each designated area of the game has a different feel to it, whether it being darker in the downtown area or nice and bright near the beach. It is amazing to see Gameloft kicking the notch up on every release.
The general feeling I have seen for this game is that people downright hate the controls. I will admit that the A and B buttons aren't the best way you could go, but they made it easy enough to learn the ropes of the controls to become decent at it. The other small let down I found was that the v-stick for controlling the skater was too small and hard to use for a game like this, with your finger often slipping out of range.
Apart from that, there is really no reason why you can't master these controls. To steer you skater you use the v-stick with forward to speed up, back to slow to a complete stop and left and right to turn. People seem to be annoyed that you don't speed up when turning but that's what happens in real life. Kudos again there!
To jump up in the air you press the A button either when on the ground or going up a ramp. To pull a manual, lip or grind you press B and a direction on the v-stick to do different variations of the trick. While doing one of these three you can either tilt the device or use the v-stick to balance your skater. While in the air using the A or B button as well as a direction on the V-stick will give you any number of different tricks to perform.
In Skater Nation there are two game modes, Career and Free Play. You will spend basically all your time in Career mode, as due to it's nature of how the career pans out you can spend unlimited time roaming around and exploring all corners of the city.
The career mode is basically cut down to completing tasks for random people who are waiting for you around the city. There are around 25 challenges or so to complete and range from getting so many points in a time limit to doing a manual over a certain distance. Defeating these challenges unlock various things ranging from decks, trucks, wheels and even more characters.
The wheels, trucks and decks that you can swap and change affect the stats of your skater. There are five characters available when you first pick up the game and three more are unlockables. Each of the characters have different stats and items to use, as well as each one having their own career mode. This adds a considerable amount of replayability to the game as you can try and get 100% on the career of each skater.
The rest of the time in the game involves just perfecting your moves and exploring the whole area. Half the fun is actually finding the people who have the challenges for you to complete. For example I found one person waiting for me inside a warehouse that just happened to be pimped out with huge ramps.
Some awesome graphics and huge gaming area makes for a title that will be played again and again by most people. As long as you give this game time and actually learn to adapt to the controls you will have an absolute blast playing this game. For those wanting more of a challenge you can try and collect all the floating decks in free play mode.
The only thing I can suggest is maybe have a more user friendly v-stick, but apart from that, this game is almost impeccable. $6.99 is a fair price for this game and if you are considering getting this, just get it already.
Gameplay- 9.5/10
Graphics- 9.5/10
Sound- 9/10
Overall- 9.5/10

I would recommend this game if you enjoyed- Vans Sk8: Pool Service

Tell me what you think about this review at Twitter- http://www.twitter.com/iPhone_Reviews next up is Skater Nation

Thanks- iPhone_Reviews