Author: iPhone Reviews // Category: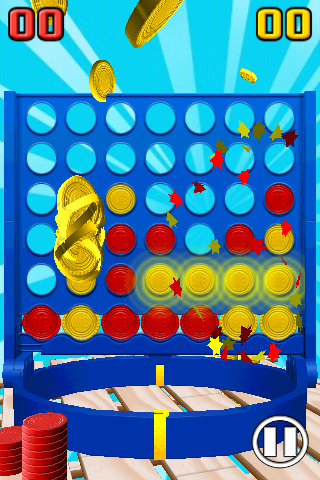 Connect 4 is a boardgame by Electronic Arts. $0.99

For those unlucky people in the Northern Hemisphere you will be experiencing snow storms, rain and all round dodgy weather. In years gone by you may have played in the snow or crowded around the fire playing some of your favourite board games. Electronic Arts are not only reducing the size of all those boxes in your cupboard, but also putting a cheaper price as you can play all your favorites on your iDevice.
The latest board game on our iDevice is Connect 4. This game has the original game that we all know and love as well as some great new modes that we can only play in a virtual game of Connect 4. Quite possibly this game is better than the original, but not as good as Connect 4 Advanced (That game rules). Instead of staying with the basic game format like many of their other board games, I love how Electronic Arts put in the extra effort to include extra content for us to play.
Board games aren't the perfect genre for making insane effects and graphics for a game. Electronic Arts have kept the original layout of the board, even having an opening scene before every game of it getting brought out of the box. We still have the red vs yellow chips to play with but there are some extras included in this game.
Some effects or 'eye candy' has been added to make this game just that little bit more special. Apart from the opening scene we get slow motion gameplay as well as exploding chips when playing the special modes or someone wins the game. It does nothing to the overall gameplay but it's good just to see someone a bit special when playing. Especially the exploding chips work well and look cool when it's happening. Just another reason to get this over the un-exploding real version of Connect 4.
This game isn't graphically intensive so there is no surprise that it runs smoothly on all iDevices. What I did find is when you haven't reset the game in a while it will occasionally crash but resetting the device will fix this problem.
Connect 4 has been kept as simple as possible so people can come along and play this game with ease even if it's their first time using an iDevice. There is nothing more to this game except dragging your finger to the desired row on the board and letting go.
With the screen smaller than a real sized Connect 4 board they have allowed some room for error. In case you have put your finger on the wrong column you can move your finger around the screen before you take it off. This is to make sure there are no accidents and angry customers. There is nothing overly special about the controls but they are simple, they are all that are needed and they work just fine for this game.
Connect 4 is best to be played with another friend but this version means you can play against the computer if there is no one else around. All four of the game modes can be played in either single or multiplayer.
The game modes are Classic, Challenge and Advanced mode. The classic game is what we all know and love with the first person to get four in a row wins. Challenge mode has lots of different mini games and challenges that you must complete and win four challenges in a row to complete it.
Advanced mode has three different modes including Power Chips, Max Score and Pop Out. Power chips and max score are the same mode essentially with the aim to get as many 4 in a rows in a certain time limit. For Power chips however you get chips with special skills such as blowing up other chips or swapping places with chips. This makes it a nice challenge and bit of a mix up for the regular gamer.
Multiplayer mode is available to play via local WiFi, Bluetooth or Pass n Play. Wifi and Bluetooth work quite well but the cool multiplayer feature I found to be the Pass n Play mode. Instead of having a mode that you have to physically pass and play you can just sit it on a table and play this game. There are options to play depending on where you are sitting such as face to face or side to side. These little features just make the game more enjoyable and easy to use.
The different game modes are a lot of fun and really add to the amount you will play this game, particularly by yourself. The challenge mode is particularly fun to play by yourself and will challenge the most seasoned Connect 4 players.
When it get's down to it you are going to buy this game if you adore Connect 4 and probably not if you can't stand it. For those in the middle and aren't sure whether to get this or not then the extra modes will be the turning point for you. Particularly the challenge mode is a heap of fun and the new modes, especially Power chips, are something you can't play in real life.
For $2.99 you are getting what would be a $20 board game in real life and you don't have to be an accountant to figure out that you are saving heaps. Both fans and newcomers to the Connect 4 series will enjoy this game. What's better than a match 3 game? Yes that's right, 4 in a row!
Gameplay- 9/10
Graphics- 9/10
Controls- 9.5/10
Overall- 9/10

I would recommend this game if you enjoyed- Bejeweled 2

Tell me what you think about this review at Twitter- http://www.twitter.com/iPhone_Reviews next up is Ace Combat Xi

Thanks- iPhone_Reviews