Author: iPhone Reviews // Category: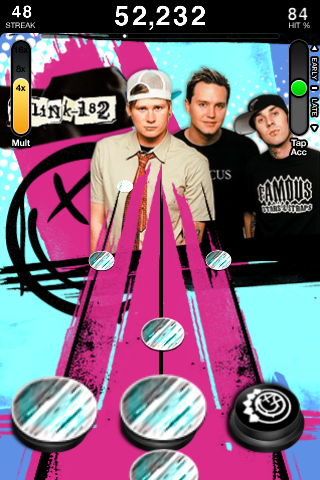 iTunes Link
Tap Tap Revenge 3 is a music game by Tapulous. $0.99 + DLC
The most popular series ever on the App Store has released the latest version of their hit tapping game. This time featuring bigger tracks, more of a social online environment and game improvements.
For the first time we have to pay for Tapulous' hit game as it features DLC. But is this game worth it? Read on to find out more.
When the App Store was first released the standout free game on the App Store was a small tapping game that featured indie songs. This was a game called Tap Tap Revenge. The game grew and started getting some pretty decent artists putting their songs onto the game, while premium add on games with Nine Inch Nails Revenge, Christmas with Weezer and Tap Tap Dance came out. These featured tracks by well known artists with special graphics. Next came Tap Tap Revenge 2 with improved graphics, gameplay and weekly themed tracks by some very large artists. This was huge and more popular than the previous edition. With this came some massive add on games with Tap Tap Coldplay, Dave Matthews Band Revenge and Lady Gaga Revenge. These packs featured some amazing graphics and really sealed Tapulous being an elite player on the App Store.
Yesterday however came the latest edition with Tap Tap Revenge 3, featuring 50 mini packs from some huge artists like Gwen Stefani, Fall Out Boy and Blink-182 as well as some great indie songs for free. Does this game deliver a gaming experience that continues on with the amazing experience we have come to expect from Tapulous? In my opinion, YES!
Tapulous has taken giant leaps in improving their games both graphics wise but also in performance. They have been stated making their games so if it encounters any lag what so ever the game knows to dim down the special effects for optimum performance. Tap Tap Revenge 3 seems to be taking steps in the right direction, improving on the already flash Tap Tap Revenge 2
The majority of tracks in TTR3 are themed tracks, which means each artist gets their own unique theme for all of their songs. This first started with Nine Inch Nails Revenge but moved to Tap Tap Revenge 2 with their weekly themed tracks. Now most of the tracks feature their cool theme and make it irresistible to buy if they have a sweet theme.
For the indie artists with free tracks on TTR3 they get the standard theme that has changed between TTR1, TTR2, TTR2.5 and now TTR3. There have been impressions given by people who don't like it as much but I think this theme is better than any that had in the past. In my opinion it just looks that little bit groovier and better than the space theme of TTR2.5.
I found the game to always be super smooth during normal play, with Tapulous managing to keep the game looking good and playing as better. I have had only slight lag on the very rare occasion and the game manages to correct itself if you pause the game and start it up again, removing some small visual effects to get it running again. The other good thing about this is that when you pause it counts you down to playing again and any notes missed in the first half a second won't break your streak.
In the online mode I found that it would lag quite a bit at the start of the game if there were lots of people in the same room as I was playing that track. It gets quite annoying and I believe it could be improved but its a great step up from TTR2 when I found it lagged all the time.
Of course Tapulous have managed to keep their latest game up there in the graphics department and is something Electronic Arts should look towards improving on if they want their own successful title.
The controls in Tap Tap Revenge have always been very simple, tap on the buttons when they reach the bottom of the screen. For those who want to be challenged however, there is more to do in this game and improvements to other parts.
One of the very first 'special' skills in Tap Tap Revenge was the shake to hit arrows. I found it to be improved immensely as I found it heaps easier to hit all the arrows. But as always for those who aren't comfortable with them you can play without the arrows on. The TTR2 add-on of 8x multiplier is back with a slight shake after hitting a note streak of 50 will activate it. Finally the 16x multiplier/weapons can be activated when the button appears on the left side of the screen.
Tap Tap Revenge 3 is all about playing through any song you like and trying to get the highest score possible. Back in TTR1 this was all you could do, but the game has evolved and there is heaps more to do in this game. There is now an online mode that has been improved from TTR2 which lets you play in a number of rooms against other players from around the world. Also by playing songs you earn EXP to level up to get more features etc. and coins that let you pimp out your avatar. Coins can be awarded by both playing songs, levelling up and achieving the many awards which are up for grabs and will bring you back to collect them all.
The game comes with three pre-downloaded songs which are available to play on all four difficulty levels. Another 100 odd free songs are available to download, but the main talking point of this app are the 50 odd track packs. These feature some huge artists that haven't had their songs on a Tapulous game before. The tracks are about $0.50 each but can only be purchased in bundle packs with 2 for $0.99 and 6 for $0.99. Realistically this is where Tapulous will make their main money as I spent $10 on packs and was seriously restraining myself from more. With artists like AFI, Blink-182, Angels & Airwaves, Fall Out Boy, Hinder, One Republic, Sum 41, Jet, Foo Fighters, Korn and many many more already on the store its really a music tappers paradise.
There is much more fun to be had in Tap Tap Revenge 3 though with online play, challenges from your friends (Add me: Sainter) and weekly contests. New things added to the gameplay is the star taps, which are stars that if you hit all of them you get a special skill. In normal play activating the skill gives you x16 multiplier for 10 seconds which is really handy. For online play it allows you to send a bomb, speed increaser or other cool weapons at other opponents to try and put them off their game. Tapulous currently hold the music game industry on the iPhone by the throat, but it will be interesting to see how they combat the just announced Rock Band by Electronic Arts (Confirmed 5 minutes before writing this part of the review)
Tap Tap Revenge 3 has delivered in providing a extremely fun and addictive experience. The only previous versions that kept me coming back to play it again and again was the premium apps because they required you to play and complete all the songs to unlock boss tracks. Tap Tap Revenge 3 has managed to keep me coming back with the option to play great tracks but also to gain levels which add a bit of a competitive edge to get.
Tap Tap Revenge 3 is a must have game for any of the millions of previous Tap Tap Revenge players. Even though people are annoyed with the DLC, I love the fact that this allows huge artists to put their songs on the Tap Tap Store. The only downside that previously free TTR2 titles are now bundled into the $0.99 packs. Apart from that I would love to see boss tracks make a return, maybe brand new ones for $0.99 each and the ability to import songs from the other Tap Tap titles. For those not planning on buying any of the songs there is an ad-supported version coming for free soon. Really this isn't a game to miss out on.
Gameplay- 9.5/10
Graphics- 10/10
Sound- 10/10
Overall- 9.5/10

I would recommend this game if you enjoyed- Tap Tap Revenge 2.6
Tell me what you think about this review at Twitter- http://www.twitter.com/iPhone_Reviews next up is GeoDefense Swarm or iBlast Moki

Thanks- iPhone_Reviews