Author: iPhone Reviews // Category: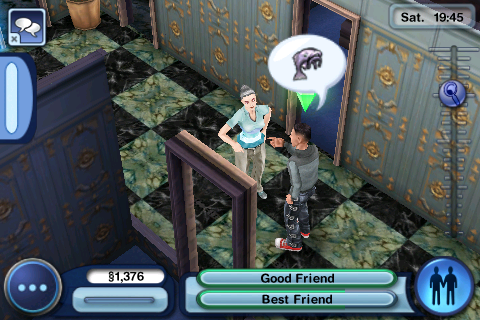 The Sims 3 is a simulation game by Electronic Arts. $9.99
[A Modified post from TheAppEra]

The Sims 3 has been well awaited on the App Store with amazing hype. The game has had the best release ever on the App Store, skyrocketing to the No.1 top paid app in less than 24 hours priced at the premium price of $9.99. Is the game worth the price? After a few seconds in the game I could safely say Yes!
I bought the original Sims on the PC with all of the expansion packs and would play it for hours on end. As my computer was only capable of handling one Sims game, I wasn't able to buy and play Sims 2. My first impressions of The Sims 3 were amazing, with graphics that are equal or even better than the original Sims. Obviously for $9.99 and 64MB content in The Sims 3 will not withheld most of the content of its PC counterpart, but it is certainly worthy of its price. Hey! Give us a game that knocks off Moron Test from the top slot, and we're a happy camper. The Sims 3 is cherry on top.
As stated before the graphics are super impressive for an iPhone game. Not only has Electronic Arts made a detailed home for you but every building in the neighbourhood is originally crafted and different from every other house in the game. Everything down to the dustbin outside your house looks beautiful and easily better than many DS, PSP and PC games.
The characters are very detailed with a range of clothes and hairstyles that can be created when you first start the game. The choices are between only a few hairstyles and clothing items with pre-set colour changes. These look great, but I didn't see a shop in the town that changes hair styles or lets you buy and sell clothes. The neighborhood is an amazing place to look around as all the different places look absolutely brilliant. As with Need for Speed the attention to detail is top notch, and this is easily one of the best looking games on the App Store.
The controls in The Sims 3 are exactly the same as the other games in the franchise. For this game however, there are some mini games which have been implemented to use the iPhone's controls which the PC doesn't have. To move around and interact with different objects and people in the neighborhood and your house, all you do is tap on the required spot and select one of the many options. The process is effective and very easy to use as it always has been.
The hardest part of the touch controls is moving the camera angle and zoom around to suit what you are doing at the time. To zoom in you slide a button up and down the right hand side of the screen. To move the camera without changing the angle of it you just slide your finger in any direction on the screen. The hardest part of this is changing the angle of the camera, which is done by having two fingers on the screen and moving them around. I find it hard to change the angle easily and often gets difficult.
The mini games that are on this version use different touch screen controls. Two examples of the four mini games are repairing and fishing. To fish you have to tilt you rod left and right and flick it up when you catch a fish. To repair electronic items from your house you have to throw out the old circuits and replace them with new ones.
The sound in this game is also what I have come to expect from The Sims games. This game provides an experience just like you are in a neighborhood with trees blowing in the wind, cars driving by and various other sounds.
When talking to people they again do not actually talk, instead make the cute yet so hilarious sounds when they do their actions. I love it when you give someone a tender embrace, and it sounds like you are halfway between dribbling and laughing at the same time. These sounds are great and better than having music in the game. The game doesn't sound as good as Need for Speed Undercover or Tiger Woods PGA Tour, but certainly close.
The emphasis in this version of The Sims is more on relationship making and and less on becoming successful with a huge house. One big part of the Sims that is missing from this game is the build mode that many people love doing. I can understand why it is missing with difficulty making a house with a finger, but instead they have the ability to do house upgrades. This gives you a bigger house for $1000, but it seems like you can only upgrade it once.
I was hoping for more upgrades with maybe a second storey, but hopefully they will come in DLC (Downloadable Content). There are many items that can be bought and for your house, with specific items for each room as well as the ability to grow your own food outside. From what I could tell there aren't many extravangant items that are available to put in and out of your house, but I am hoping for expansion packs when the OS 3.0 is released sometime soon.
The house up-keep and person up-keep seem to be alot easier than in The Sims as it gives you more chances to build your relationships with people. Your character can have his own personality that you choose at the beginning of the game. I chose a nice guy who wants to be friends with everyone. He is easily impressed and has a good sense of humour. Not all characters are like this, as you can choose a maniac who talks to trees or even someone who wants to be hated by the entire neighborhood.
As always your career makes you money which lets you get a better house and items. There are multiple jobs which you can do and your profession will go down a certain path. As always though what happens in the game is entirely up to you, whether you decide to have your own bachelor pad and be single or get married and work all the time. This game can be hilarious at times especially when you try and tune up the hot girl on the street, get a budding romance then visit her at her house only to find out she has a boyfriend. Still unphased by the boyfriend and you walk in to get her a hot smooch, he starts to get annoyed and creeped out by you before kicking you out of their house.
The Sims 3 will keep you entertained for hours on end. I have only been playing this game for about 2 hours and I feel like I have only skimmed the top of the iceberg with what there is to come in this game. For $10 this is an incredible game, especially when the full version on the PC is upwards of $80 in some places. Brilliant graphics, sound and gameplay that the world has fallen in with for many years has been successfully brought onto the iPhone.
I can see why this can rose to No.1 in such a short amount of time. The Sims 3 will give you all kinds of experience and easily surpasses the gaming experience of New York Nights, which I found really short. While that game is great for the casual gamer, The Sims 3 provides an experience for all types of gamers which is why it has turned into such a huge game. This is the best game on the App Store by far. If you do not buy this game right now you are definitely missing out on something special.
Gameplay- 10/10


Graphics- 10/10


Sound- 1010/10


Overall- 10/10

~ PERFECT GAME!



I would recommend this game if you enjoyed- SimCity

Tell me what you think about this review at Twitter- http://www.twitter.com/iPhone_Reviews next up is The VOID!