Author: iPhone Reviews // Category:
This is not a review, but a preview of the upcoming game by Electronic Arts that is due out June 2nd 2009.
EA Mobile presents:

The Sims 3
Product Description
The #1 PC game franchise of all times comes to today's hottest game platform!
The Sims 3 brings exciting new gameplay and endless possibilities all on your iPhone and iPod Touch!
Enjoy unexpected moments of surprise and mischief, as you choose whether (or not!) to fulfill your Sims' destinies and make their wishes come true.
Create and customize your Sims appearance and personality, then take your Sims out of the house and into the neighborhood with all new open world gameplay.
Make their world your own!
Key Features
- Over 10 hours of gameplay filled with hysterical antics and moments of surprise
- New beautiful 3D visuals
- Support for iPhone specific controls (touch and accelerometer)
- Explore an ever-changing neighborhood with new open world gameplay
- Enjoy smarter Sims with deeper personalities, wishes and goals
- Create your own Sim, complete with different hair styles, clothes, personalities and more
- Keep your Sims busy with 4 fun mini-games including fishing, gardening, cooking and house repairs
- Develop complex relationships with other Sims as you fall in love, make friends and rebel against the neighborhood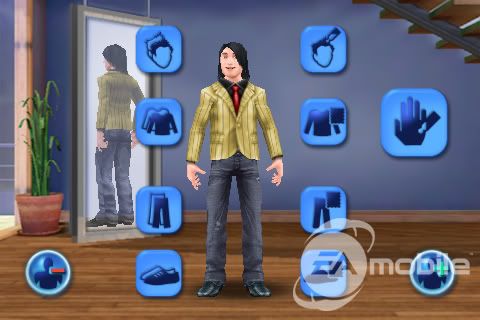 We will cover this game in more detail hopefully before its release and certainly a full review when it is released to the public