Author: iPhone Reviews // Category: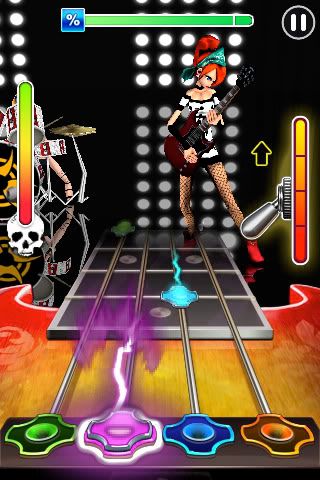 Guitar Rock Tour 2 is a music game by Gameloft. $4.99
[A modified post from TheAppEra]

This sequel certainly isn't as good as the original, its way better!
Guitar Rock Tour was Gameloft's answer to the might of Tapulous and the Tap Tap Revenge series. However, what Guitar Rock Tour actually brought to the table was multiple big name songs ala Guitar Hero. I thoroughly enjoyed the game with hits from some of my favorite bands like Blink-182 and Good Charlotte, but the sequel smashes all of this out of the ballpark. Wanna find out why?
Guitar Rock Tour 2 is basically the original + more tracks + a better career mode + better graphics + Downloadable Content + Wolfmother. Yes, GRT 2 basically outdoes the original in all possible ways meaning its not just the same game with some new songs so Gameloft can make a quick $100k. After a somewhat letdown in DJ Mix Tour Gameloft has redeemed themselves with this game.
Guitar Rock Tour 2 smashes the sequel in all standards of graphics and sound. While you wouldn't expect the sound to be much different apart from the songs there is quite a bit. In the original game quite a few tracks was the proper song but it wasn't sung by the actual band who produced it. This game seems to have quite a large number of tracks that ARE the original tracks. Having this makes it alot better because the songs are better interpreted and perceived by its original artists.
The graphics in this game have been stepped up a notch from the previous version. The graphics are spectacular with a great live performance environment in the background coupled with the smooth gameplay below. The background consists of various band members rocking their stuff in a kind of music video with special effects and locations for each city you travel to.
There are many choices as to who is playing in your band as well as the guitar/drums that you play. The actual game itself has been improved with flasher buttons and special skills that have been given that graphical edge. The performance of the game has also been greatly improved with less likelihood of lag in the game.
As you can guess the controls are pretty simple and stay the same from the original. To play you must tap and sometimes hold the beats as they come down the screen. When you get so many fire power beats in a row you get the option of flicking one of two switches. One of these activates double score and lets you rock hard for so many seconds. The other one lets you regain your fans if you have been missing some notes recently. The drums are slightly different in that you must hit the drums as the notes hit the required area and the double points option comes on automatically so you don't have to worry about it.
The game has been ramped up to have a better career mode to play around with. Previously, the games have only featured a set list before moving onto the next location. Now this time there are also optional assignments to complete that involve tasks like getting a certain % accuracy or not missing any of the solo beats. This greatly adds to the experience and puts a bit more of a challenge.
There are 18 famous songs to rock out to ranging from Sweet Home Alabama to Nine in the Afternoon. These can be played at any time in quick play as long as you have played it once in career mode. Once played in career mode for either drums or guitar, it is unlocked for free play in all difficulties on both instruments. This is good for practice if you are stuck getting an assignment completed or if you just want to rock out to your favourite track.
A new part of the game is the 'solo' section of the track where you are the only guitarist playing the song. In here you get double points (And if you already have the double points mode on can get up to 16x multiplier), and if you get 100% of the notes a nice bonus will be added onto your score after completing the solo. This is crucial to getting higher scores for each of the songs as you keep the double points until you miss a beat, even after the solo is finished.
Finally the other new part of the game is coming soon, but its going to be downloadable song packs which I assume will have an extended career mode and be priced for $1 or $2. These will be great for those wanting to play a bit more of Guitar Rock Tour.
Guitar Rock Tour 2 is matched what the original was, with some hefty bonuses on the side. While my personal preferences to song choice lie with original artist tracks, they are not too shabby. With the added DLC coming soon, this will hopefully diversify what I'm looking for with a more Punk/Rock style of music to tap along to.
This game is amazing and should be picked up by any fan of the Tap Tap Revenge or similar games. Fans of the sequel and DJ Mix Tour will crave this game and won't be able to stop rockin' with the music!
Gameplay- 8/10

Graphics- 9.5/10

Sound- 9/10

Overall- 9/10
I would recommend this game if you enjoyed- Guitar Rock Tour

Tell me what you think about this review at Twitter- http://www.twitter.com/iPhone_Reviews next up is Minigore

Thanks- iPhone_Reviews